Although it has not announced the price bookings, sources say it could be in thousands.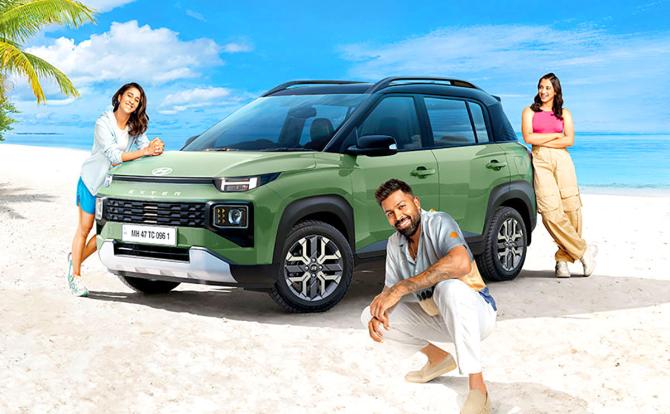 Hyundai Motor on Tuesday will launch its new model, the Exter, in the entry-level sports utility vehicle (SUV) market, challenging the domination of Tata's Punch in the segment.
Positioned as an entry-level SUV with a price tag of over Rs 5 lakh, going up to the sub-Rs 10 lakh bracket, the Punch has been a success story for the Tatas and has ramped up volumes of 10,000-11,000 vehicles a month.
Says Vinay Pant, head, marketing, Tata Motors Passenger Vehicles Ltd: "In October 2021 Tata Punch created a sub-compact segment, anticipating the needs of customers at an early stage. It has received an exceptional response, making it the fastest SUV in India to surpass the 100,000 and 200,000 milestone."
Pant adds that Punch's month-on-month sales growth has pushed it not only into the top 5 SUVs in the country but also that it is consistently ranked amongst the 10 top-selling cars.
The Tatas have introduced innovations with the Punch, launching the industry-first customisation options to meet a wide range of customer needs.
Its importance to Tata Motors can also be gauged from the fact that in June this year, Punch accounted for 23.26 per cent of the company's total passenger vehicle sales.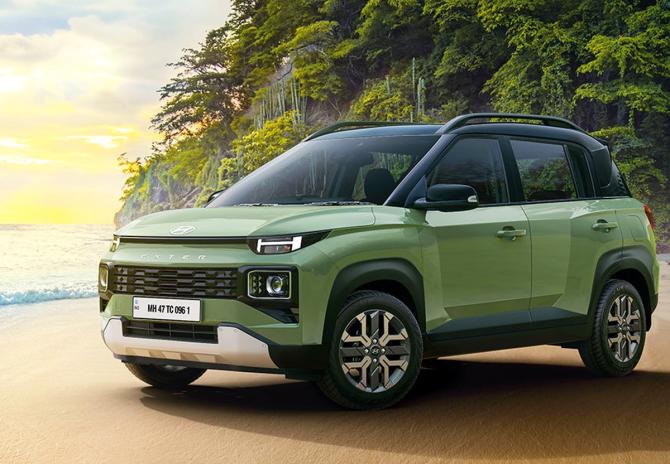 Auto industry executives say that this segment of the market has a huge potential.
In 2022, the sub-4 metre SUV segment accounted for around 14 per cent of the market (of vehicles priced at less than Rs 20 lakh), but they say that it could go up to 16-17 per cent by the end of this calendar year and hit 20 per cent by the end of 2024. Volumes are expected to go up to well over 20,000 plus a month by then.
The reason for the rapid growth of this segment, say, auto executives, is that it attracts consumers from both the hatchback category and also those looking for a value-for-money SUV.
Currently, the segment accounts for about 3 per cent to 3.5 per cent of the overall passenger car market.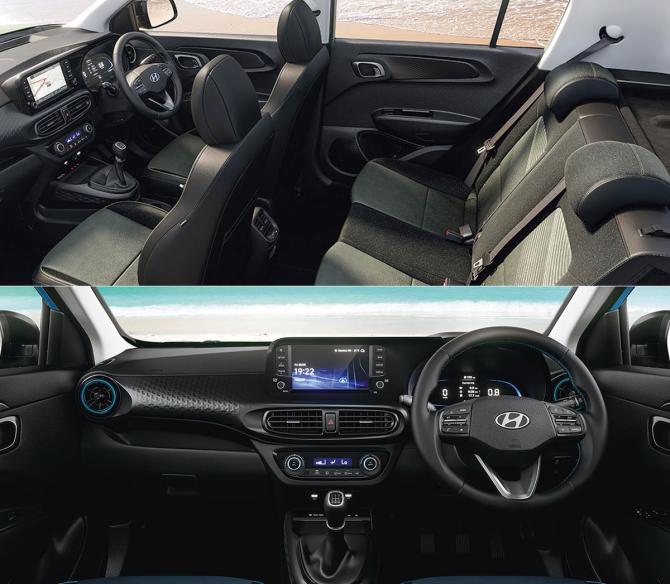 With Exter, Hyundai expects to cash in on the popularity of this segment.
Although it has not announced the price bookings, sources say that it could be in thousands.
Industry experts believe that the Exter will have many features which are not available in this segment.
The Korean giant is an aggressive player in the SUV market, with an over 17.5 per cent market share in India and it straddles seven sub-segments at various price points, going up to Rs 45 lakh.
What it did not have so far was an entry-level SUV, a gap, which the Exter will now fill.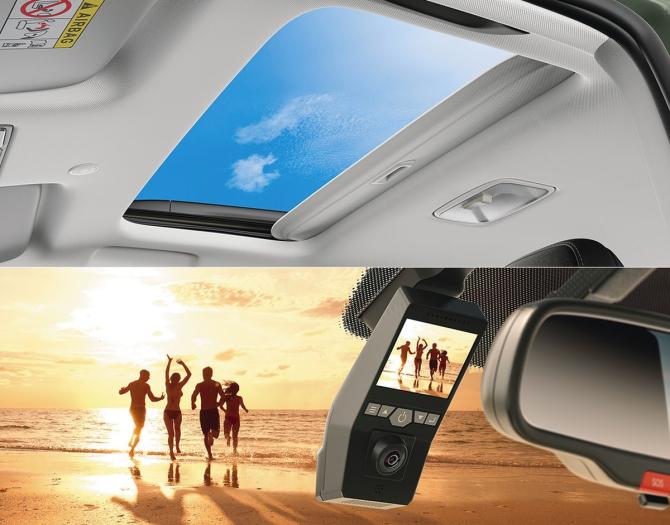 According to reports, it will be priced at around Rs 6 lakh, which will be competitive with the Punch.
Hyundai's other SUVs have prices to suit every pocket — Avenue (Rs 8.76 lakh to Rs 15.57 lakh on road in Delhi), Avenue Venue N Line (from Rs 14.65 lakh), Creta (from Rs 12.26 lakh), Tucson (from Rs 33.10 lakh), amongst others. It also has the electric vehicle, Ioniq 5, at Rs 48.26 lakh.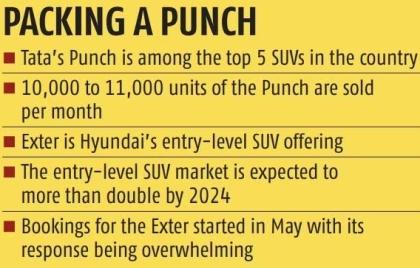 The entry-level SUV market is expected to attract the attention of other competitors as well.
Experts point out that there are already models such as the recently introduced Citroen C3 and the Maruti Ignis, which are essentially hatches but styled and marketed like SUVs and within the same price range.
Feature Presentation: Rajesh Alva/Rediff.com
Source: Read Full Article