Combined profit before tax of 81 firms down 37.5% y-o-y, worst show in at least 3 years.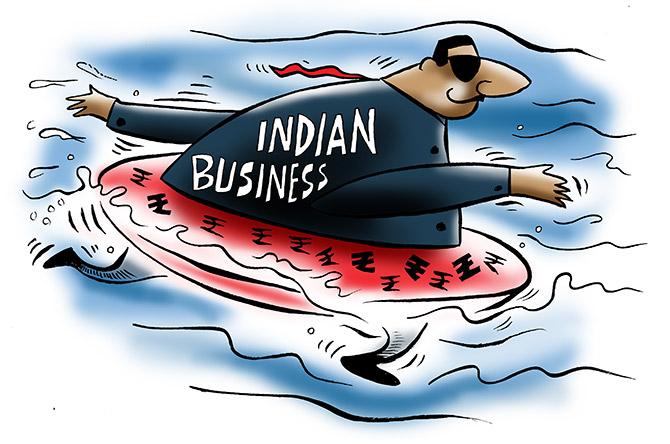 As expected, COVID-induced lockdown has begun to hit corporate earnings even though economic activity was shut for only seven days during the January-March 2020 quarter (Q4FY20).
The combined profit before tax of 81 early bird firms that have declared Q4 results is down 37.5 per cent year-on-year against 48 per cent y-o-y growth a year ago.
The blow to bottom line was, however, cushioned by a cut in corporation tax rate cut announced in September last year.
Combined net profit was down 36.8 per cent y-o-y in Q4 compared to 49.5 per cent y-o-y growth a year ago and 18.3 per cent y-o-y growth reported by the sample during Q3FY20.
Adjusted for exceptional gains and losses such as inventory losses, as reported by Reliance Industries, net profit was down 21 per cent y-o-y during Q4 against 47.2 per cent y-o-y growth a year ago.
The real pain is, however, on the revenue side, with the combined net sales (including net interest income of lenders) of early bird companies down 0.9 per cent y-o-y during Q4, their worst show in at least 12 quarters.
In comparison, combined net sales were up 23.2 per cent y-o-y a year ago and 4.1 per cent y-o-y in Q3.
Total revenues including other income and lender's fee income was, however, down nearly 7 per cent during Q4 – the first revenue contraction for the sample in at least 12 quarters.
In all, they reported combined revenues of Rs 4.32 trillion and net profit of around Rs 30,800 crore during Q4.
Early bird revenues were around one-fifth of listed companies' combined revenue, while their net profit were around a quarter during Q3.
Analysts, however, say Q4 results are not a true barometer of the economic pain induced by Covid-19.
"We should not give too much credence to Q4 earnings. It was a normal quarter, except the disruption in the second half of the month of March.
"However, the numbers of individual companies do give a peek in their readiness or resilience to face the really painful earnings compression during the April-June 2020 quarter (Q1FY21)," said Dhananjay Sinha, director research, Systematix Group.
Nearly fourth-fifth (80 per cent) early bird revenues and most of the net profits are accounted for private sector banks, insurance companies, tech companies, and Reliance Industries.
These firms operate in sectors least affected by the lockdown, leading to underreporting of the economic pain.
The rest of the sample hints at a sharp fall in revenues and profits growth despite few days of lockdown in Q4.
The combined net sales of early bird companies' – excluding lenders, insurance, IT, and Reliance Industries – was down 23.4 per cent y-o-y in Q4 – their worst show in at least 12 quarters.
In comparison, these companies combined net sales was up 54 per cent y-o-y during Q4FY19 and 3.9 per cent in Q3FY20.
However, it must be noted that net profit figure has been skewed a bit by the numbers of chronically sick companies such as Reliance Power, Reliance Capital, and Reliance Infra.
YES Bank had big swing in its numbers across quarters and was excluded from the sample.
Manufacturers such as Hindustan Unilever, Marico, ACC, and Ambuja Cement, however, reported y-o-y decline in volumes and revenues during Q4, though a hit to their bottom line was cushioned by lower raw material prices and gains from tax cut.
Analysts and companies management have hinted at a sharp decline in revenues and losses at net levels for scores of manufacturers during the first quarter of FY21.
Source: Read Full Article