'Opportunity for a country like India is huge in terms of wealth creation.'
'That's the reason India is an attractive economy for investors.'
Kris Gopalakrishnan, co-founder of Infosys, is the chairman of Axilor Ventures, an accelerator that helps early-stage start-ups succeed.
"I strongly believe that the long-term prospects of IT services are good," Gopalakrishnan, below, tells Shobha Warrier/Rediff.com. The first of a two-part interview:
The prime minister has announced a stimulus package of Rs 20 lakh crore to kickstart the economy. Do you think this will help the economy bounce back?
This is a substantial stimulus package. We need to wait for the details. If the industry gets support from this, especially the SME sector, we will avoid some of the damages from the crisis.
The PM talked about Atma Nirbhar Bharat. Do you think India can emerge as an economically self-reliant country?
I believe, yes.
This belief comes from my experience in the IT industry where we have built world class, export-driven, financially strong and resilient businesses.
This belief comes from the start-up ecosystem where we have built 35+ unicorns (before the virus struck) in a short period of time, in less than 10 years.
Do you feel the lockdown has gone on for too long, and has affected the economy very badly?
As there is no past experience, everybody is trying to figure this out and come up with a right answer. We are experimenting with certain hypothesis, and it is probably a question of balancing life with livelihood.
At the end of the day, it is a political decision.
We see that different governments are taking different decisions, and the future will tell us which is the right path. That will become a pointer to how such crisis should be handled in future.
It is said the MSME sector and start-ups are the most affected because of no economic activity for two months.
It is quite clear that as individuals and businesses, everybody is affected in some way or the other. Some are more affected than the others.
The migrant labourers, the daily wage earners, people who are in the informal sector are more affected than those in the formal sector where by and large, companies have not laid off people or significantly cut salaries. Some have made some minor adjustments, but generally salaries are paid.
When it comes to businesses, those businesses that have debt in their balancesheet are more affected. Their cashflows are affected, hence the inability to pay their employees, suppliers, partners, etc.
Demand has dried up so, there is no revenue coming in.
No economic activity is happening.
So, it all depends on how much money you had in your books before the lockdown. This is going to affect companies at different times. Some companies may have three months's cash, some may have six months's cash and the better ones may have 24 months of cash.
Nobody had prepared for something like this. It was unexpected. Even at the beginning of March, nobody would have thought of a lockdown of this kind.
At that time, we knew there was a virus and checks were happening at airports.
The severity of the pandemic surprised all of us.
Those in the SME sector feel that by the time the lockdown ends, many companies will have to shut shop. Do you feel the situation will be the same for start-ups also?
Start-ups are, in some sense, SMEs only.
It all depends on whether you have the cash to restart the business, pay for your expenses, pay for your employees, etc.
You need cash to restart.
So, what kind of future do you see for start-ups?
This crisis is going to affect businesses and also individuals. That's why the government is the last resort.
The RBI has announced a good monetary policy to increase liquidity to ease the situation from a monetary perspective. But the liquidity is not flowing into the system because many companies are already leveraged.
Now, the government also has come out with a stimulus package. Even if there is more money, it has to go into the hands of companies and individuals. This is where fiscal measures help.
You had said 25% of Indian start-ups would be in trouble if a recovery did not happen in the next six months/
A survey I looked at said that 25% of start-ups had cash only for two months. We are already in May. So, there are going to be failures in start-ups and the SME field.
The government restricting investments from China, has alarmed many start-ups as China has been an investor for many start-ups in India. Do you feel this decision is going to affect Indian start-ups badly?
This is balancing between national security geopolitics and the need for funding.
I think the government will look at fast-tracking investments on case by case basis. So, there is expectation that if investments are coming from China, the government will approve it on case by case basis.
What kind of future do you see for the IT service sector in India because one of the biggest partners, the US, is suffering very badly?
In IT services, there is a shortfall of talent globally. So, I feel the long-term prospects for the sector is very good because demand for IT services will continue to grow as we leverage technology more and more.
We still have significant amount of legacy systems which will have to be simultaneously maintained.
I strongly believe that the long-term prospects of IT services are good.
In the short-term, because the global economy is affected, you will see an impact on the IT services revenue.
You will see an impact on recruitment by the IT services companies also.
But the IT services sector will be less affected than for example, the construction sector or the hospitality sector.
If you look at services as a whole, different sectors are going to be affected differently.
Do you feel the e-commerce space is going to do well hereafter?
It is not just black or white. E-commerce segment was 10% of all the retail, before the Covid situation. Since it is such a small percentage, growth is possible with significant opportunities.
Having said that, in a country like India, during the crisis the kirana stores have done very well. They were the ones that were actually working and supporting the people.
We have always been talking about the huge domestic market in India. Of course, there were complaints of lack of demand before the virus struck. Do you see the domestic market picking up any time soon?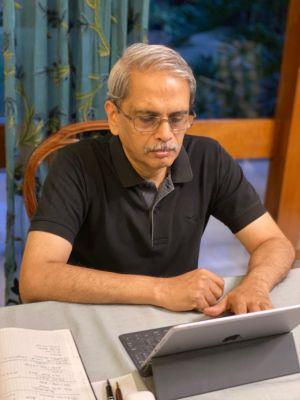 It will take some time. People's incomes have been affected. So, demand will be muted for some time.
People are going to think twice before buying something like a refrigerator or a car.
As and when the economy picks up, people's incomes will rise and the situation will change.
If I look at the Indian economy from 1991 when the economy opened up and today, our middle class which was 50 million has moved to 350 million now. It means 350 million people have become middle class in the last 25, 30 years.
It was expected that it would double to 700 million in the next 20 years.
Opportunity for a country like India is huge in terms of wealth creation which will result in more people buying and consuming more things.
That's the reason India is an attractive economy for investors. That's why it is attracting foreign direct investment in large numbers.
There are very few economies in the world that can continue to grow at 7% to 8%.
Source: Read Full Article