London (CNN Business)Lufthansa and the German government have finalized the terms of a €9 billion ($9.8 billion) bailout, following weeks of intense negotiations over the future of Europe's leading global airline.
The rescue package will give the government a 20% stake in the group, which owns airlines in Germany, Austria, Switzerland and Belgium, and two seats on its supervisory board.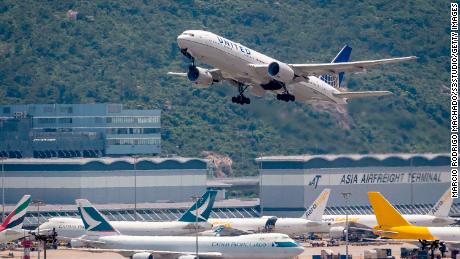 Lufthansa (DLAKY) said in a statement Monday that Germany's Federal Economic Stabilization Fund, which is being used to assist companies hit by the coronavirus pandemic, has approved a "stabilization package," which the company's executive board supports.
The government is injecting up to €5.7 billion ($6.2 billion) into the airline, earning a return that starts at 4% this year and next before increasing. The package also includes a three-year credit facility of up to €3 billion ($3.3 billion), the vast majority of which will come from Germany's state-owned development bank, KfW.
In addition, the government will acquire a 20% stake in Lufthansa for €2.56 per share ($2.79), or about €300 million ($327 million). The government has the option to increase its stake to 25% plus one share, enabling it to block any potential takeover. It has agreed to sell its shares in full by the end of 2023, subject to full repayment of its $6.2 billion investment and the share price being above the purchase price. Lufthansa's stock, which has nearly halved this year, closed at €8.64 ($9.41) in Frankfurt on Monday.
"Before the pandemic, the company was healthy and profitable and had good prospects for the future, but it faces an existential emergency because of the current corona crisis," the government said in a statement. "The federal government's stabilization package takes into account the needs of the company as well as the needs of taxpayers and employees of the Lufthansa Group."
Lufthansa, which posted a €1.2 billion ($1.3 billion) first quarter loss, does not expect global aviation to recover from the pandemic for several years. The company is shutting down its discount carrier, Germanwings, and plans to shed 10,000 jobs.
Two seats on Lufthansa's supervisory board are to be filled in agreement with the German state, the company said, one of which is to become a member of the audit committee. These seats will be allocated to "independent experts," according to the government, which said the financial support measures came with "extensive remuneration restrictions" for senior management.
The airline group may also be required to waive future dividend payments.
"Lufthansa is committed to pursuing sustainability goals, including renewing its fleet," the government said, without providing further detail on environmental conditions tied to the bailout.
French state-backed loans amounting to €7 billion ($7.6 billion) given to Air France-KLM (AFLYY) last month included new commitments to cut absolute carbon emissions in half by 2024 on its domestic network, compared with 2019.
Lufthansa said its management and supervisory boards will "come together shortly" to adopt the resolutions of the rescue package, which are subject to shareholder and regulatory approval.
— Mark Thompson contributed reporting.
Source: Read Full Article