Real estate experts say rentals have corrected by 5-10 per cent across formats, including office, retail and housing, with a pick-up expected over the next few quarters as the economy recovers.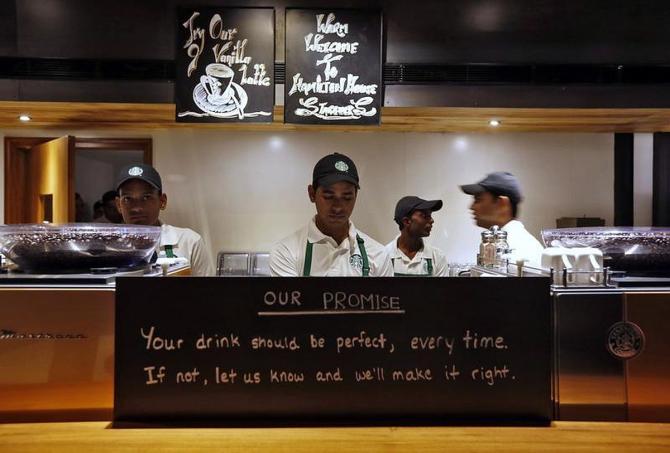 Some of the country's top retailers such as Starbucks, Reliance Retail, DMart, and Titan are looking to add new stores at a time when shopping and eating out remain largely constrained due to the pandemic.
While India has unlocked almost fully as part of the fifth phase of guidelines, aimed at kick-starting economic activity, consumers remain cautious, said market research agency Nielsen in a survey released recently, adding that safety, hygiene and value were attributes that many were seeking as they sought to override challenges induced by Covid-19.
Trust is also an important attribute that consumers are seeking, said Arvind Singhal, chairman, Technopak, leading to a push by large retailers in the last few months.
"The organised retail market remains under-penetrated in India.
"So large players will increase their domination and will seize opportunities to grow their presence, especially when smaller players are vacating spaces and real estate prices are correcting.
"This is a time to lock in properties and the acceleration in store launches by large players is a result of this," he said.
In a conversation with Business Standard, Navin Gurnaney, chief executive officer (CEO), Tata Starbucks, said the retailer was responding to demand for its brand on the ground.
Starbucks has 196 stores across 12 cities.
"Since the unlock programme began in June, we've set up 11 stores, eight of which came up in August alone.
"We've plans for more launches this year. Two will come up in the coming weeks in Amritsar and Kochi, respectively.
"I'm confident we'd beat hands-down this year the number of store additions that we had in the last fiscal, which was 36," Gurnaney said.
Industry estimates are that 500-600 stores could come this year if plans of different players are taken into account.
Reliance Retail, for instance, is targeting around 300 stores in the current financial year, close to 70 of which came up in the April-June period, when the lockdown was in force.
Reliance has over 12,000 stores in the country.
Titan will add 30-35 new Tanishq stores in FY21, a tad lower than the 41 stores added in FY20, but yet a healthy number, said analysts tracking the company.
The optimism, says Abneesh Roy, executive vice president, research (institutional equities), Edelweiss, comes as the jewellery business of the company returns to normalcy.
"Titan is also gearing up for the festival season, since it a big period for it. And a combination of store launches, digital transformation, and brand activations will help in lead generation and sales," he said.
DMart plans to open up close to 60 stores in the next two years, half of which could come up in FY21, sector experts said.
Aditya Birla Fashion & Retail is looking to set up over 200 stores as it seeks to expand its footprint across markets, taking advantage of lower rentals.
Real estate experts say rentals have corrected by 5-10 per cent across formats, including office, retail and housing, with a pick-up expected over the next few quarters as the economy recovers.
Saurabh Kalra, chief operating officer, McDonald's India (west and south), said while store launches for the company would be softer in FY21, the retailer did not view it as a roadblock to future growth.
"This is a good time to crack markets in terms of real estate, since prices are lower. Having said that, there is a gestation time involved when launching new stores, which will impact restaurant launches, though our long-term growth plans are intact," Kalra said.
Organised retail in India is around 15 per cent of the total $700-800 billion market, with penetration expected to grow to 20-25 per cent in the next decade on the back of the aggression displayed by multiple players.
Some of the formats that show potential for growth include food, fashion, lifestyle and grocery.
Photograph: Reuters
Source: Read Full Article