video
US food banks seeing emergency COVID benefits come to an end
As emergency food stamp benefits are set to expire this month, one food bank in Geneva, Illinois is claiming the move will impact their 450,000 monthly clients.
As the COVID-era Supplemental Nutrition Assistance Program (SNAP) benefits are set to expire this month, some food banks are warning that the majority of their clients – who are working-class families – "are struggling to make ends meet."
"We serve the suburbs of Chicago and a majority of our families are working families," Northern Illinois Food Bank president and CEO Julie Yurko told FOX Business' Jeff Flock in an appearance on "Varney & Co." Wednesday. "They are struggling to make ends meet."
In 2020, amid the public health emergency, Congress temporarily raised SNAP benefits to provide anywhere from $90 to $250 more per household depending on their assistance needs.
Congress then passed the Consolidated Appropriations Act of 2023 in December 2022, giving the benefits an expiration date. Notably, President Biden announced last month that the federal government will end its COVID-19 pandemic emergency declaration on May 11.
DOORDASH, CHASE LAUNCH CREDIT CARD EVEN AS ECONOMY SLOWS
While some states had already stopped issuing emergency allotments, other states and territories had benefits return to normal amounts starting this month. Those states include California, Hawaii, Massachusetts, Michigan, New York, Ohio, Pennsylvania, Texas and 24 others.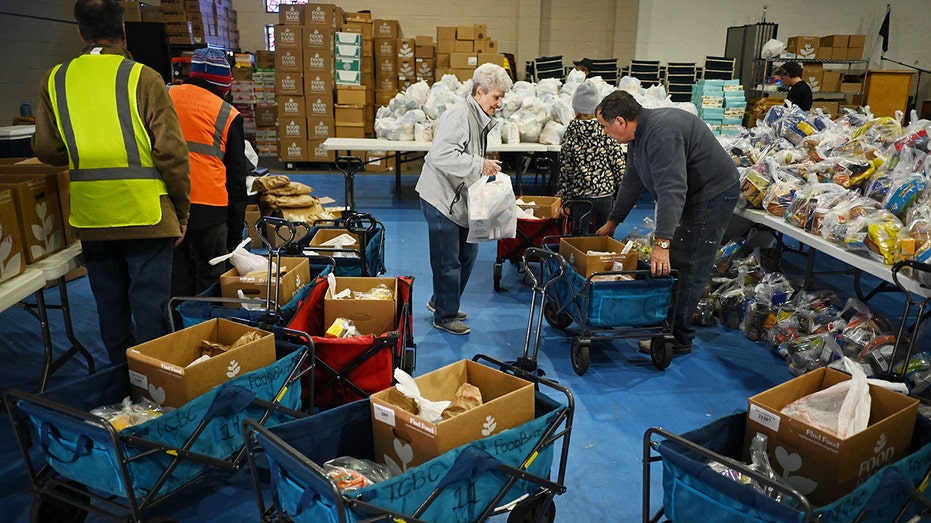 Volunteers assort and box foods at Tri-City Baptist Food Bank in Westminster, Colorado on Tuesday, February 28, 2023. (Hyoung Chang/The Denver Post / Getty Images)

Yurko's food bank currently serves approximately 450,000 clients per month, which she claimed is a 55% increase from last year. The food bank president also expressed worries that numbers will only grow as food inflation rages on.

"It is crazy. Food inflation, over 10% for more than a year. We expect it to continue," she said. "And we know that the families we're serving right now are hurting because of that."

The cost of groceries saw an 11.3% increase year-over-year in January and a 0.4% increase month-over-month, according to the latest consumer price index.

Yurko additionally noted that most of their food inventory is donated canned or non-perishable goods that may be slightly damaged and not sellable on retail shelves.

"They are not going to market, so we're going to put a label on them and we're going to get them out to our families in need," she said. "It's perfectly good to eat."

A majority of our families are working families. They are struggling to make ends meet.

The Northern Illinois Food Bank largely relies on its 17,000 volunteers to help serve the rising number of community members.

"[The volunteers] come to us every year, give us 140,000 hours of time. That's like 60 full-time staff members," Yurko said.

Other food banks in states like New Jersey and Pennsylvania have also previously reported more families facing financial hardship amid rising everyday costs.

GET FOX BUSINESS ON THE GO BY CLICKING HERE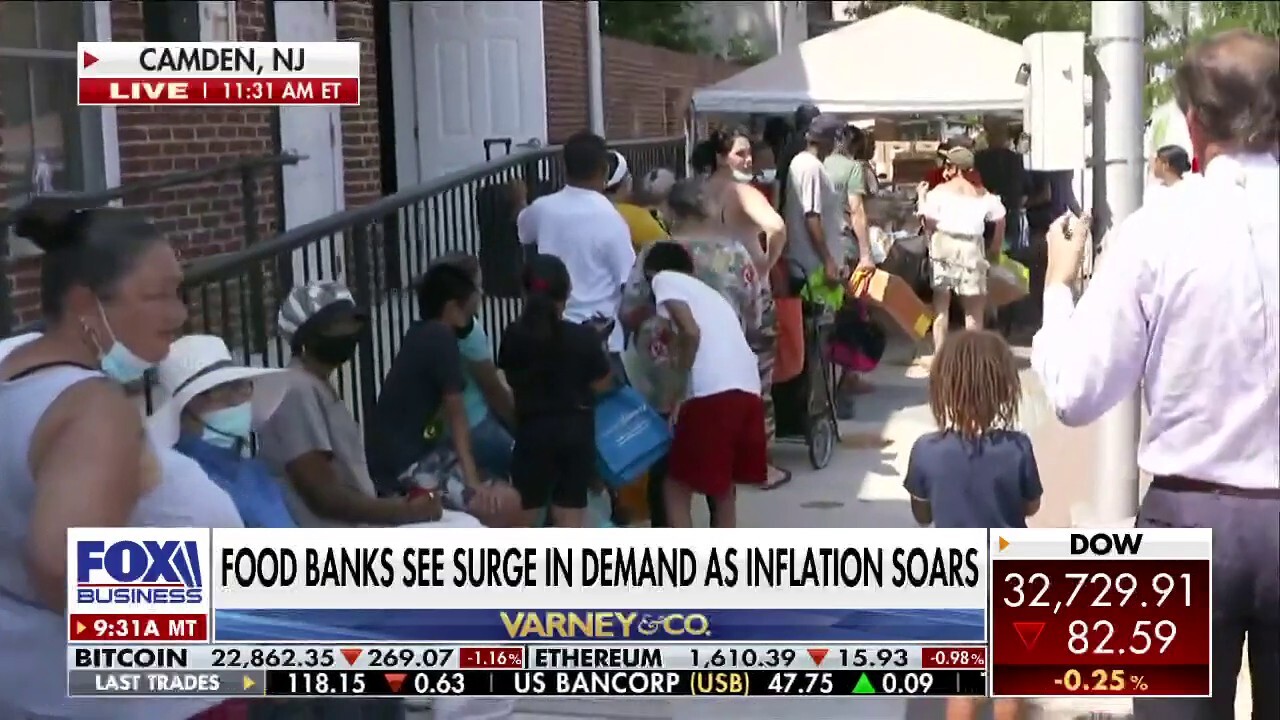 video
Many people struggling for first time with inflation: Pennsylvania food bank exec
FOX Business' Jeff Flock speaks with Chelsea Short, the director of communications at Philabundance as food banks see a surge in demand amid soaring inflation. 

"A lot of people are finding that they are having to decide between paying for a bill, paying for gas, or paying for food," Chelsea Short, the director of communications at Philabundance, told Flock last August.

"The stories are the same," Community FoodBank of New Jersey President Carlos Rodriguez told FOX Business' Lydia Hu in July. "It's just much more expensive to fill up their tank, to go to work or to drop [kids] to go to school. And then, of course, when they go to the grocery store, they get hit with another high cost."

READ MORE FROM FOX BUSINESS

FOX Business' Julia Musto contributed to this report.

Source: Read Full Article