video
GMC's Hummer EV is a 'sold-out,' 'phenomenal success': Global VP Duncan Aldred
GMC & Buick global vice president Duncan Aldred discusses the 'uniqueness' of GMC's Hummer electric truck on 'The Claman Countdown.' 
General Motors Co. Chief Executive Mary Barra has called 2023 a breakout year for the company's electric-vehicle push. It is off to a slow start.
The Detroit auto maker is dealing with the slower-than-expected rollout of two high-profile electric vehicles, the GMC Hummer EV and the Cadillac Lyriq, increasing pressure on Ms. Barra after GM lost EV market share to rivals last year. 
More than 15 months after GM began building the electric GMC Hummer pickup truck, the company has been making roughly a dozen a day, a figure far below initial targets for this point in the rollout, people familiar with the matter said. The Hummer has a wait list of more than 80,000 people. Some Hummers have been stuck at dealerships under a sales freeze since October, as GM investigated a potential problem with water seeping into the battery pack.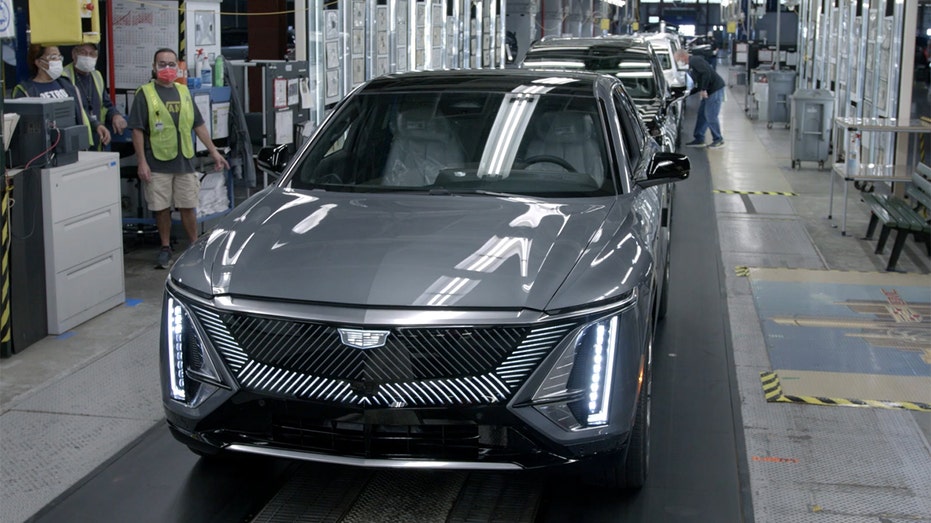 GM expects to produce this year about 9% fewer Lyriqs in the U.S. than it initially planned. (Cadillac)

GM's other high-profile new EV, the Cadillac Lyriq SUV, which it started selling almost a year ago, is also experiencing an unusually slow ramp-up. Through February, GM had sold roughly 1,000 Lyriqs since it began building them in March 2022. Comparatively, Tesla Inc. sold an estimated 252,000 Model Ys in the U.S. last year, according to research firm Motor Intelligence. The Lyriq is a direct competitor to the Tesla Model Y. 

GM CUTTING HUNDREDS OF JOBS TO REDUCE COSTS

GM aims to produce 36,000 Lyriqs in the U.S. this year, 9% lower than its original target, partly because of a tighter-than-expected supply of battery cells, people familiar with the matter said. 

GM says EV output will accelerate, especially in the second half of the year. The difficulties highlight how amid the fanfare around electric vehicles, car companies are having trouble manufacturing them at scale, hindered in part by challenges of navigating new supply chains for the technology.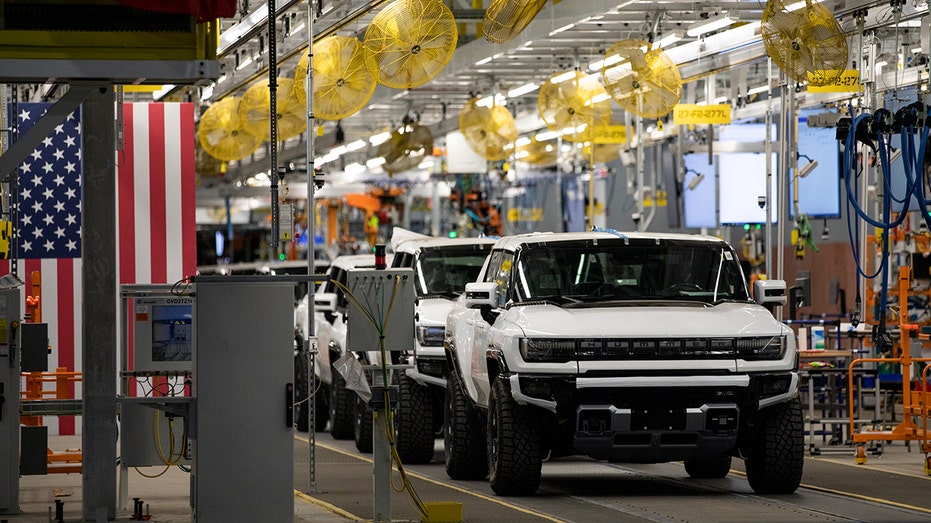 The electric GMC Hummer has a wait list of more than 80,000 people. GMC Hummer electric vehicles on the production line at General Motors' Factory ZERO all-electric vehicle assembly plant in Detroit, Michigan, U.S., on Wednesday, Nov. 17, 2021. Gener (Fox News)

"Demand is very strong for our new EVs, and we appreciate the loyalty of our dealers and customers as we ramp up production," a company spokesman said.

Ms. Barra has set a goal of unseating Tesla as the EV sales leader in the U.S. with plans to introduce more than a dozen new battery-powered models in coming years. Investors are closely watching whether GM can crank up its EV factories while maintaining a healthy profit margin. 

STUDY FINDS GENERAL MOTORS AND TESLA HAVE THE MOST LOYAL CUSTOMERS

Major auto makers are rushing to establish a foothold in the fast-growing market for plug-in cars. The narrow availability of Hummer and Lyriq models is a potential missed opportunity, dealers say, amid what executives say is strong consumer interest in EVs. 

GM has said more than 200,000 people have expressed interest in the Lyriq, and the waiting list of prospective buyers who paid a $100 deposit to order a Hummer topped 80,000.

The auto maker has remedied the leak issue with the Hummer and in late January resumed output at the Detroit factory where the vehicle is made, a GM spokesman said, following two months of down time to install equipment for new models. He said the stop-sale order applies to 124 Hummers in dealers' inventory, and declined to comment on when it would be lifted.
Ticker
Security
Last
Change
Change %
TSLA
TESLA INC.
187.71
-6.10
-3.15%
GM
GENERAL MOTORS CO.
39.74
-0.71
-1.76%
The spokesman added that GM has been posting record sales of its Chevrolet Bolt electric car, which has been on the market for seven years and uses older technology. GM expects those results to help vault the company's overall U.S. electric sales into the No. 2 spot for the first quarter, behind leader Tesla, he said.

The company will soon have more to juggle as it plans to launch other new EV models this year, on top of trying to accelerate output of the Hummer and Lyriq. It plans to start building several new electric models in coming months, including plug-in versions of its Chevrolet Blazer and Equinox SUVs and a battery-powered Silverado pickup truck.

Ms. Barra told analysts in January that GM's EV output would significantly accelerate in the second half of this year as battery-cell production gains steam at a factory in Ohio, opened in August as a joint venture between GM and South Korea's LG Energy Solution Ltd.

FORD VS. GM: A TALE OF TWO AUTOMAKERS

Meanwhile, the company will need to guard against buyers defecting to other brands.

Brooklyn resident Jonathan Mason said he ordered a black Lyriq in September 2021, and emails from GM indicated that he would receive the SUV by the end of 2022. That time frame slipped, and his dealer told him last week that there is no set delivery date for Mr. Mason's Lyriq.

"This has been a harrowing process," said Mr. Mason, a 36-year-old who works in healthcare information-technology at a New York health system, and is the son of GM retirees.

Rory Harvey, global vice president of Cadillac, said last month that the Lyriq launch was methodical to ensure quality, and that the pace has picked up. "You can really see the momentum building now," he said.

GM was among the first traditional auto makers to fully embrace electric cars. It revealed the Hummer in a Super Bowl commercial featuring LeBron James in January 2020. But the company has fallen behind faster-moving rivals. GM executives have pointed to a slower-than-expected launch of battery-cell production at the Ohio factory.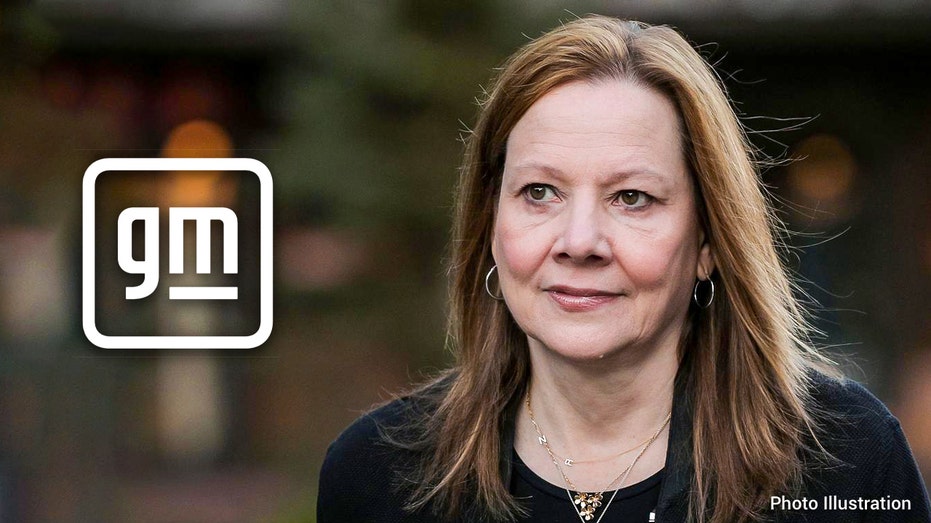 GM CEO Mary Barra has set a goal of unseating Tesla as the EV sales leader in the U.S. Mary Barra, CEO of General Motors, attends the annual Allen and Co. Sun Valley media conference in Sun Valley, Idaho, U.S., July 12, 2019.  (REUTERS/Brendan McDermid / Reuters Photos)

Other auto makers have strained to hit their EV sales goals too, hampered in part by supply-chain constraints that have plagued the auto industry during the pandemic.

Ford Motor Co. is scheduled to resume building F-150 Lightning electric pickups next week after a five-week pause to investigate the cause of a Feb. 4 battery fire in a truck during a pre-shipment quality inspection.
Ticker
Security
Last
Change
Change %
F
FORD MOTOR CO.
12.83
-0.15
-1.16%
Rivian Automotive Inc. shares fell last week after the California-based startup's production forecast for 2023 fell short of Wall Street's estimates. Startup Lucid Group Inc. also issued a lower-than-expected output target for the year.
Ticker
Security
Last
Change
Change %
RIVN
RIVIAN AUTOMOTIVE INC.
15.11
+0.47
+3.21%
LCID
LUCID GROUP INC.
8.31
+0.01
+0.06%
GMC dealers who have had Hummers at their stores for months because of the company's stop-sale order said it has been difficult to keep customers updated on the status of their orders.

CLICK HERE TO GET THE FOX BUSINESS APP

"The customers are frustrated," Utah dealer Chris Hemmersmeier said. His dealerships have more than 500 people on a Hummer waiting list.

Source: Read Full Article