New York (CNN Business)A popular fund geared to track the price of oil has imploded in recent days as crude plummeted into negative territory.
The United States Oil Fund (USO) fell nearly 20% in early trading Tuesday following a more-than 10% drop Monday. The USO exchange-traded fund has plunged 75% in 2020.
Crude to be delivered in May dropped to $-37.60 a barrel Monday because of an unprecedented shock to both demand and supply during the global Covid-19 pandemic.
Travel has ground to a virtual standstill, slashing demand for oil. Oil producers have run out of storage capacity and are willing to pay to have all the excess supply stored offshore. Hence, the negative prices.
Some experts have argued that big oil ETFs like the USO are exacerbating the problem because they invest primarily in futures contracts for the next month.

The USO ETF currently has more than $4 billion in assets under management, which makes it the largest oil fund — allowing it to have an outsized impact on the energy markets.
But the company that runs the USO ETF, USCF Investments, has made some recent changes to how it manages the fund to lessen the pain from falling near-term crude prices.
USCF disclosed in a Securities and Exchange Commission filing Tuesday that it will temporarily stop issuing so-called "creation baskets" — new shares that own the oil contracts.
That move, in theory, could slow the bleeding a bit for existing shares. But USO prices will probably continue to fall as long as oil prices plunge.
USCF said in another regulatory filing last week that it will begin investing 80% of its portfolio in crude oil futures contracts for the so-called front month contract and the remainder in crude oil futures for the second-month contract.
But there's another twist.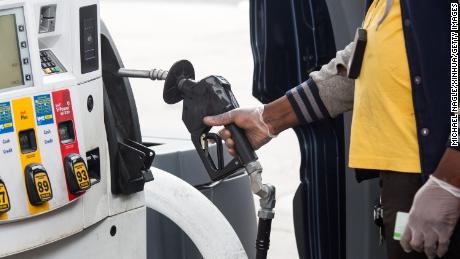 USCF added that in the last two weeks before the front month contract is set to expire, it will roll its investments into the second and third month contracts.
Here's what that means: The May contract is set to expire later Tuesday. So the USO ETF should no longer own any futures tied to the negatively priced oil contracts. The fund's assets should be in June and July futures, which have also fallen sharply in recent days but not nearly as dramatically as May crude prices.
USCF was not immediately available for comment about the turmoil in the oil market and respond to allegations that it was a contributor to the stunning drop in crude prices.
But one expert said ETFs aren't the cause of the oil price problems.
"It's simply a case of having nowhere to store all this oil and futures traders have to sell the contract if they have no ability to take delivery of the oil. The usual buyers just don't want those barrels of oil right now. There is a glut of oil," said Chris Gaffney, president of world markets for TIAA Bank.
Source: Read Full Article