CSL chief executive Paul Perreault has said there are still major unknowns about what a successful COVID-19 vaccine would look like, including whether multiple doses or booster shots would need to be factored into production.
"We don't know yet — but I would say many of the vaccine manufacturers are looking at the dosing regimen," Mr Perreault said on a call to discuss CSL's 2020 financial results on Wednesday morning.
"I would say the general population, just like those of us on the research and development side, should be prepared for pretty much anything at this point. It could be one shot, or a series of two shots — that's yet to be determined."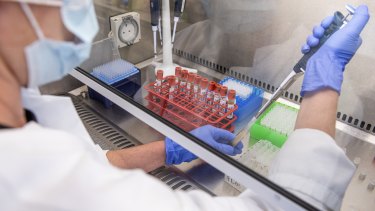 Samples from coronavirus vaccine trials are handled inside the Oxford Vaccine Group laboratory on June 25.Credit:
The Australian government has positioned the $133 billion biotech giant as the key to local production of a successful coronavirus vaccine. CSL has been in discussions with the government and pharmaceutical giant AstraZeneca around the potential licensing or production of the University of Oxford's vaccine product, which is considered the leading global candidate.
On Wednesday Prime Minister Scott Morrison pledged the government would supply the vaccine free to all Australians, and if the Oxford product was shown to be successful Australia would produce it "straight away under our own steam".
Australia would be relying on CSL's manufacturing capabilities if it were to produce the vaccine locally, but the company refused to be drawn on Wednesday morning into discussing how it would be involved.
Mr Perreault said there were still a number of technical issues to work through before any agreements were made and that the company was still prioritising the University of Queensland's vaccine project.
The University of Queensland's vaccine is currently in phase 1 trials and CSL would help manage phase 2 and 3 trials and initial production runs for the product.
The company said on Wednesday morning that if trials go to planned timelines, doses could be available for emergency use of the product by the middle of 2021.
Mr Perreault was keen to emphasise there are risks involved in any project aiming to fight the virus, and it was key that researchers worked to get the right combination of doses prior to rolling out any products to market.
"You want to make sure that you have the right combination… you don't want to undercook it."
Source: Read Full Article