New York (CNN Business)HBO Max launched Wednesday to big buzz, but also a litany of challenges.
The new service from WarnerMedia, CNN's parent company, premieres with a big library of TV shows and films from popular brands like HBO and Warner Bros. However, the service also enters a crowded marketplace with a price that's more expensive than its rivals.
Oh, and it's launching during a global pandemic.
Despite the hurdles, Bob Greenblatt, chairman of WarnerMedia entertainment and direct-to-consumer, says the service is ready for its big debut.
Greenblatt spoke with CNN Business about the new service, the coronavirus' effect on its launch and how the pandemic could change the streaming wars.
This interview has been edited and condensed.
Give me the elevator pitch for HBO Max. What makes it different than the countless streaming services out there?
It is a highly curated platform, made up of the entire HBO service, as well as a deep library from the Warner Bros. film and television libraries, third-party acquisitions, and an enormous new slate of original production that we call the Max Originals. Twice the content of HBO for the same price. How's that?
That works. So what has been the biggest challenge in bringing HBO Max to market during a global pandemic? How has that affected your launch strategy?
The good news is it really hasn't affected us as much as we thought it might in the middle of March, when all this started. We had a couple of weeks there where we thought, "Can we bring this to market, will everything come together?" We still had 10 weeks to go and an enormous amount of technical build had to still happen… But we quickly realized that all of these teams were able to work at home. We initially thought maybe we should delay it, but learned pretty quickly that we didn't need to. It became a bit of a rallying cry for the company to get this thing to market on the day that we promised, and all systems go.
Are you expecting more subscribers than initially projected or less subscribers because of the economic downturn caused by the pandemic?
Well, the honest answer is we really don't know yet. We do know that people are hurting and there's a lot of people out of work, many more than we ever imagined would be. At the same time, I think we have an offering that is really valuable… We've seen people during this pandemic watch more television and more content, really craving more and more. So I think on the one hand it could be a really perfect moment for us to be bringing this to market.


With coronavirus halting productions, do you have enough content for the long run? Or do you guys see yourself making more acquisitions as you're going along?
The answer is yes to all of the above. We are in great shape for the launch because most of the new original content on both the HBO and the Max Original sides are ready to go. If this [shutdown] continues far beyond what we imagined -— and initially we thought it would just be a couple of months, and now we're looking at probably not getting shows back into production until the fall at the earliest — that will have some ramifications on what we have to offer later in the year and at the beginning of 2021.
We are always looking for additional great acquisitions content… The big question is long-term, what's going to happen? And I guess the good news on that front is that we're all in the same boat. All of our competitors, all the broadcast networks, cable networks, streaming services, we all need original programming. So we're all going to be facing this six to nine months from now.
People who don't subscribe to HBO will probably think I didn't need HBO before, why do I need HBO now? How do you change their minds when it comes to HBO Max?
The answer is really simple: If you didn't think before you were an HBO customer, for whatever reasons… the beauty of HBO Max is you have everything in HBO, but there's so much more. It's "Friends" and "South Park," the Studio Ghibli films, "Doctor Who" and all this other great content including the Max Originals, which is designed to complement what HBO does. So it's programming for kids and teenagers and young adults and people that HBO doesn't typically appeal to.
And that's I think honestly been one of the hold backs on HBO over the years. It's a very penetrated service, but we think we've hit a ceiling. And in order to expand that ceiling, we're giving you all this additional content around it.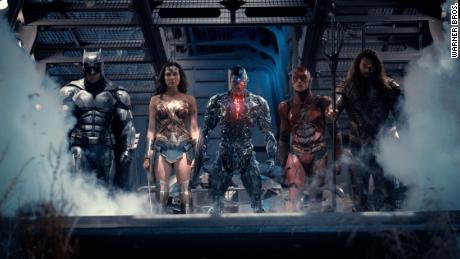 By my count, there is HBO, HBO Go, HBO Now, and now HBO Max. How long will there be four different HBOs? Isn't that confusing for a consumer?
Yes. We've talked a little bit about that over the past few months. Go and Now are essentially the same thing, you just get it differently… They will continue for a while. Look, if a customer just wants HBO and just wants to have nothing but that service we're happy to still offer that to them. And I think before too long it will whittle down to HBO will always exist and then HBO Max will exist. And I think HBO will be the linear service and HBO Max will be a bundle of HBO and the rest of it. At first, we're throttling some of these things down, but I don't think it will be too long before it gets much more simple.
How do you think coronavirus will alter the streaming wars as we knew it?
Well, I think it's really going to come down to availability of original programming… The streaming wars are something I kind of laugh about. I call them "the streaming opportunities" because it's really not one victor. We're trying to reorient the whole world, and I think at the end of the day there will be four or five services that you will want to subscribe to. I mean, we see that in research, we hear that from people. So it's not a zero-sum game of one victor who reaches the top of the mountain.
We're all going to coexist. We want to be different than Disney+ and different than Netflix in some of the ways I described. Covid I think is just going to slow all of us down a little bit in terms of delivering original programming and that's really critical. So we're all wishing for getting back into production as soon as we can.
Source: Read Full Article