video
'Not acceptable' to Americans, economy to add $19T to US debt: Rep. Jared Moskowitz
Rep. Jared Moskowitz, D-Fla., discusses the U.S. debt ceiling and the pressure on Biden to address the Chinese spy craft incident.
The cost of servicing America's national debt is expected to soar over the next 10 years to unprecedented levels, as net interest expense on the debt will cost more than $1.4 trillion annually in 2033 based on the latest projections from the Congressional Budget Office (CBO).
The CBO's recently released budget and economic outlook for the next 10 years projects that the cost of servicing the national debt will more than double in that timeframe and the government will spend about $10.5 trillion on interest expenses alone over the coming decade. Spending on interest as compared to the size of the U.S. economy is also expected to rise from 2.4% of the gross domestic product in fiscal year (FY) 2023 to 3.6% of GDP in FY2033.
In FY2022, American taxpayers spent $475 billion in interest expenses on the national debt — a figure that is expected to rise to $640 billion in the current fiscal year, FY2023. As the federal government continues to run budget deficits and the debt level rises in the coming years, the amount spent on interest is projected to exceed $1 trillion for the first time in FY2029 and rise to $1.4 trillion in FY2033.
US NATIONAL DEBT TO RISE BY $20 TRILLION OVER THE NEXT 10 YEARS: CBO
The Congressional Budget Office projects that the amount taxpayers spend to service the national debt will rise from $640 billion in FY2023 to more than $1.4 trillion in FY2033. (AP / AP Newsroom)

To help put the scale of that $1.4 trillion in context, that's more than what the federal government spent on discretionary appropriations — items like defense and non-defense domestic programs that Congress has to approve annually — in the last full fiscal year before the pandemic. In FY2019, the federal discretionary budget totaled $1.3 trillion, which was more or less evenly divided between defense and non-defense programs. 

In the years since the pandemic began, discretionary spending has ballooned in part due to temporary relief measures enacted by Congress, but also because of annual spending on defense and non-defense programs rising. 

CBO OFFERS CONGRESS FOR SAVING SOCIAL SECURITY, MEDICARE, HIGHWAY TRUST FUND FROM INSOLVENCY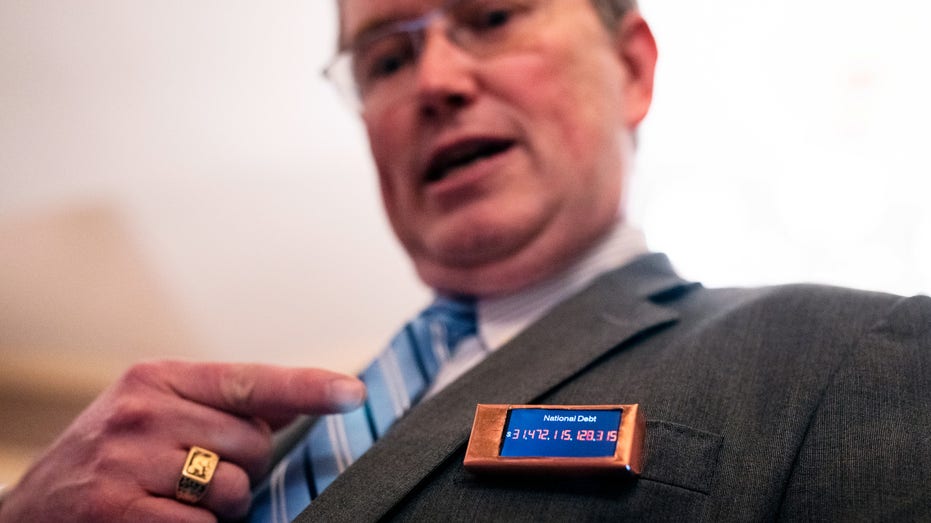 Rep. Thomas Massie, R-Ky., talks about his national debt button before President Joe Biden's State of the Union address in the House Chamber on Tuesday, February 7, 2023. – Interest expense on the national debt is forecast to consume 3.6% of America' (Tom Williams/CQ-Roll Call, Inc via Getty Images / Getty Images)

Discretionary spending totaled more than $1.6 trillion in FY2022 and is expected to exceed $1.7 trillion in FY2023, with about $800 billion for defense and $941 billion for non-defense appropriations. 

By FY2033, the CBO expects the U.S. to spend over $2.3 trillion on discretionary items — including $1.1 trillion on defense and more than $1.2 trillion on non-defense appropriations. 

GET FOX BUSINESS ON THE GO BY CLICKING HERE

If the CBO's projections play out as expected, federal spending to cover the $1.4 trillion in interest payments on the national debt will exceed discretionary spending on either defense or non-defense appropriations in FY2033.

Fox Business' Edward Lawrence contributed to this report.

Source: Read Full Article