People flocked to a reopened beach in Jacksonville, Florida, on Friday afternoon after officials partially lifted restrictions aimed at slowing the spread of the coronavirus.
CNN correspondent Randi Kaye, who was reporting from the scene, described it as "a mad dash here for the ocean" on Friday's broadcast of "Anderson Cooper 360°."
"Once police gave the all-clear, all the people who had been lined up in the streets waiting to get to the beach when they opened today at 5 p.m., they just flooded the area," said Kaye.
"They were biking, they were running, they were swimming, surfing, they were fishing some of them, a lot of people brought their dogs," she continued. "It was as if they had been cooped up for so long, for years. That's how they were behaving when really it had only been about a month because they first closed this beach on March 20."
Kaye said there "wasn't a whole lot of" social distancing going on, with some groups set up on the sand with beach coolers and other people sunbathing.
A surfer interviewed by CNN said they would not be surprised if the easing of restrictions did not last very long, given the number of people who'd arrived.
Another beachgoer noted there were "so many people standing around, everyone's so close together."
Check out the segment here:
And photographs taken in Jacksonville on Friday afternoon here: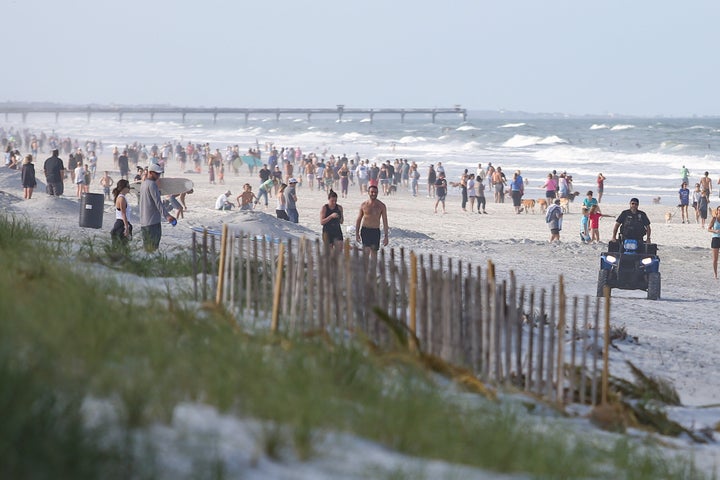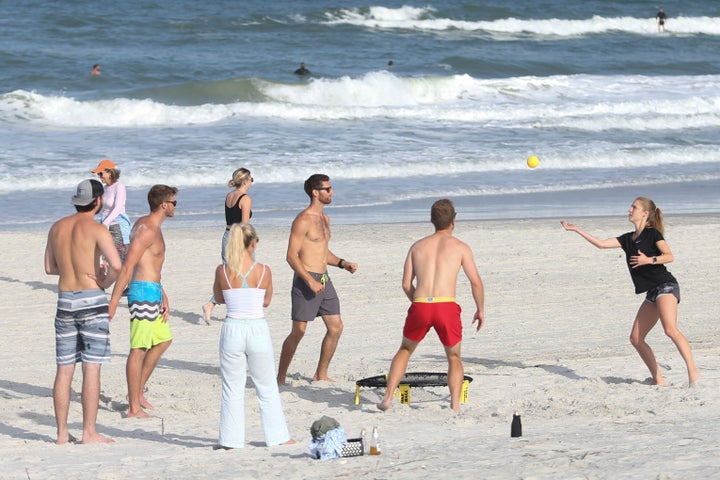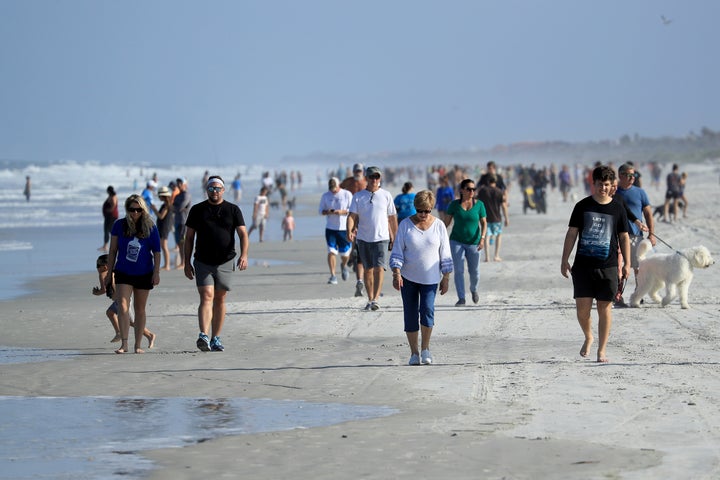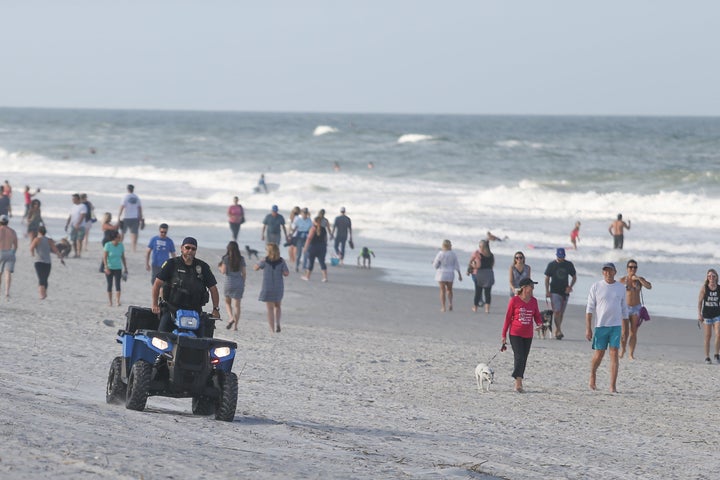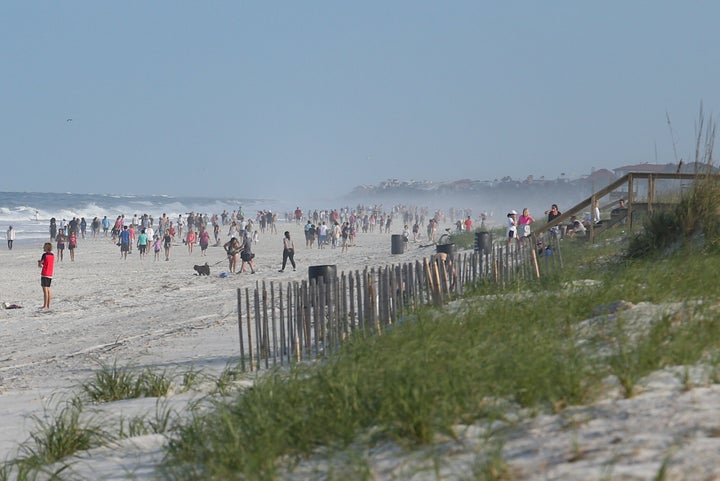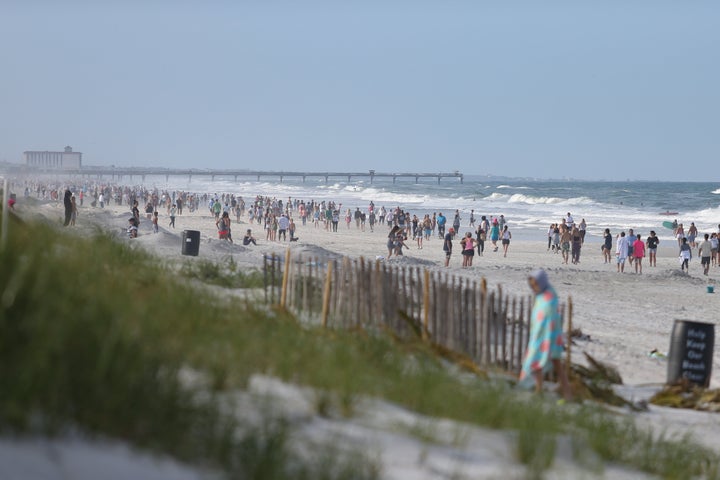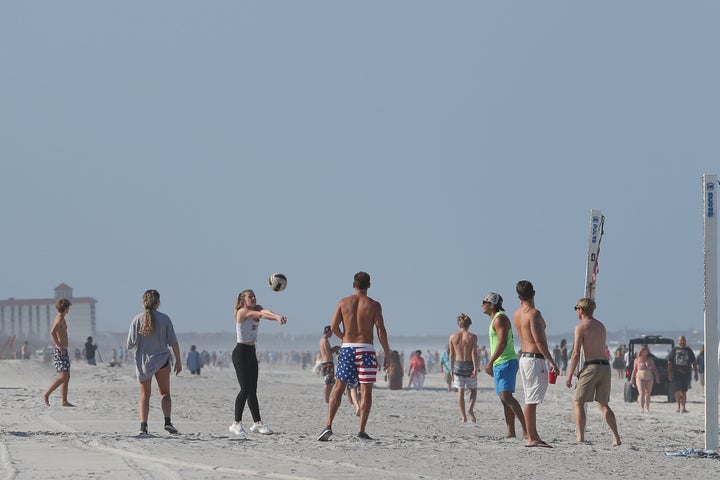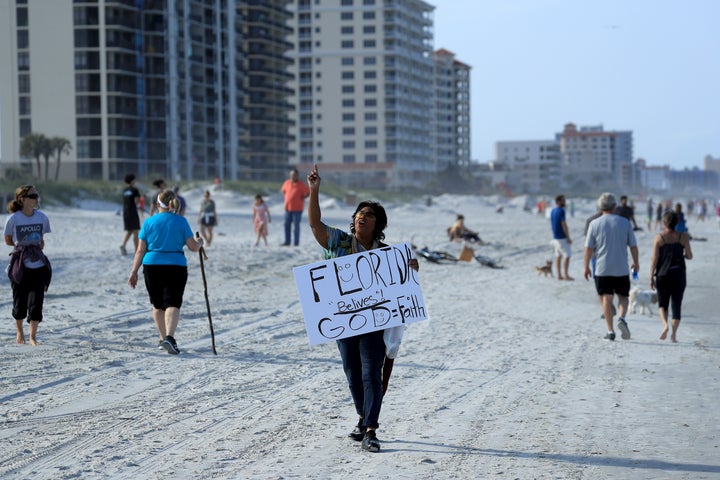 Florida Gov. Ron DeSantis (R), who has been widely criticized for his slow, haphazard and sloppy response to the public health crisis, this week said some municipalities could start reopening beaches and parks if social distancing measures were in place and it could be done safely.
Jacksonville Mayor Lenny Curry said beaches in Duval County would reopen from 6 to 11 a.m. and 5 to 8 p.m. for walking, biking, hiking, fishing, running, swimming, taking care of pets and surfing. In a video shared online, he urged people to still social distance.
Check out the clip here:
Curry later tweeted this picture to thank residents for purportedly adhering to the rules, before sharing other tweets that showed more people on the sand.
COVID-19, the disease caused by the coronavirus, has so far killed more than 150,000 people worldwide and upwards of 37,000 people in the U.S., which now has more confirmed cases than any other country.
Stay up to date with our live blog as we cover the COVID-19 pandemic
What happens if we end social distancing too soon?
What you need to know about face masks right now
How long are asymptomatic carriers contagious?
Lost your job due to coronavirus? Here's what you need to know.
Everything you need to know about coronavirus and grief
The HuffPost guide to working from home
What coronavirus questions are on your mind right now? We want to help you find answers.
Everyone deserves accurate information about COVID-19. Support journalism without a paywall — and keep it free for everyone — by becoming a HuffPost member today.
 
Source: Read Full Article